Eyelid Surgery for Puffy Circles Under the Eyes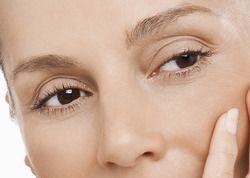 Dr. Constance Barone is among the leading plastic surgeons and cosmetic skin care experts in the greater San Antonio area. She has helped numerous patients look younger and more refreshed through facial rejuvenation procedures. Cosmetic eyelid surgery is a great option for anti-aging and facial rejuvenation, allowing patients to roll back the clock and feel confident again. The upper eyelids and lower eyelids can be treated as needed. Let's consider the lower eyelid surgery right now.
The Cosmetic Problems with Bags Under the Eyes
When you develop puffy bags under your eyes, your overall appearance can be drastically affected. People may think that you look much older than you really are (or than you feel). In addition, the puffiness under the eyes tends to make you look worried, tired, or exhausted when you may be feeling the opposite of those things.
These negative cosmetic issues are why many patients consider undergoing lower eyelid surgery.
About Lower Eyelid Surgery
Lower eyelid surgery is a kind of facial rejuvenation procedure that targets the lower eyelids of a patient. The surgery can help reduce the puffiness under the eyes and can also address a number of other aesthetic issues that impact the overall appearance of the eye area. By undergoing lower eyelid surgery, you can look years younger and much more refreshed.
Ideal Candidates for Lower Eyelid Surgery
The best candidates for lower eyelid surgery are people who are in good overall health and are able to tolerate a surgical procedure without experiencing any adverse effects to their wellness. Candidates should have realistic expectations when it comes to the surgical procedure itself and the recovery process as well.
Is scarring an issue after surgery?
With lower eyelid surgery, scarring tends to be a very minor issue. Incisions are made along the lower eyelids just below the eyelashes. This means that scarring after the surgery is very well hidden and is virtually unnoticeable. Of course, scarring can vary from patient to patient based on various factors, so we will be sure to consider these issues seriously during the consultation process.
The Lower Eyelid Surgery Procedure
During lower eyelid surgery, patients are placed under general anesthetic in order to prevent serious issues with pain and discomfort. The surgeon will make the incision along the lower eyelids and carefully work thorough these incisions so as not to harm the eye area or adjacent facial tissues. Minimal liposuction is often involved in order to reduce the bagginess of the lower eyelid area. Additional tissue can be removed as needed.
Recovery from Lower Eyelid Surgery
Soreness, bruising, and swelling around the lower eye area are common after the lower eyelid surgery has been performed, but these side effects are temporary and easy to manage. Patients should get ample rest in the initial days after surgery and avoid any activities that involve heavy lifting or strenuous physical activities.
Full pre-op and post-op instructions will be provided to patients during the consultation process. These will help patients avoid major complications and also reduce the duration and severity of surgical side effects.
Contact Dr. Constance Barone for More Information
If you would like more information about lower eyelid surgery and how it can help you have a refreshed and youthful appearance, be sure to contact our cosmetic skin care and plastic surgery center today. Dr. Barone and her entire team look forward to your visit and going over all of your treatment options in greater detail.
Related to This