Breast implants come in a variety of types, shapes, and sizes to look natural with every woman's body shape. The type of implant used for your breast enlargement procedure will depend on your aesthetic goals and the recommendations made by Dr. Barone after your initial consultation to discuss breast implants at our San Antonio center. The two most commonly used breast implants, both approved by the Food and Drug Administration, are saline breast implants and silicone breast implants.
Your Consultation & Types of Implants
Before you undergo breast augmentation surgery, Dr. Barone will explain the procedure to you in detail and answer any questions you have. Your consultation is a great time to express any concerns and ask any questions about surgery, recovery, and what you can expect following surgery. It is also a great time to discuss CareCredit™ and other financing options available to you.
IDEAL IMPLANT® Structured Breast Implants
Dr. Barone proudly offers IDEAL IMPLANT® Structured Breast implants at her practice, an advanced implant option that combines the desirable qualities of both traditional saline and silicone gel. IDEAL IMPLANT® is a multi-layered and structured implant that contains saline, but has been designed to feel natural, mimicking the feel of silicone gel implants. This quality is made possible by the internal structure of the implant that consists of nested shells and two separate chambers filled with saline solution. This design creates a cushioned feel comparable to a silicone gel and lowers the risk of implant failure by reducing wrinkling and folding, the main causes of implant rupture and deflation.
The FDA has approved saline breast implants for women ages 18 and over, and silicone implants for women 22 and older. Saline breast implants are made of a silicone outer shell that is filled with a saltwater solution. Saline implants are soft and durable and are available in round and teardrop shapes to conform to the patient's natural body contour. Most saline implants are filled after implant placement, allowing for a smaller incision to insert them. Saline implants are also the only type of breast implant that can be inserted using the TUBA procedure, as well as are used in cases of adjustable breast implants. In cases of implant rupture, saline is easily absorbed by the body and implant deflation is noticeable almost immediately. Saline implants have a soft, natural feel, but do run the risk of having visible wrinkles.
Silicone Breast Implants

Silicone breast implants are also composed of a silicone outer shell; however, these types of implants are filled with a silicone gel that can often look and feel more natural than saline implants. The appearance of rippling is also less common in silicone than in saline breast implants. Silicone implants often yield better breast enlargement results in women who are very thin or those who are receiving breast reconstruction surgery. While the chances of a silicone implant rupturing are smaller than with saline implants, it is more difficult to figure out when one has ruptured.
Placement Choices

When a woman decides to undergo breast augmentation with Dr. Constance Barone, she has several choices to make according to her aesthetic goals. In addition to choosing the type and size of breast implants she will have, each patient will have to decide which kind of breast implant placement to incorporate. The placement of breast implants affects the way your breasts will look and feel. Because each woman has different needs and goals, neither placement type is necessarily better than the other.
Subglandular placement is the placement of breast implants below the breast tissue, but above the pectoral muscle. Submuscular placement involves placing the implant below the pectoral muscle. Each type of placement results in a different appearance and feel, especially when combined with different types of implants and different insertion techniques.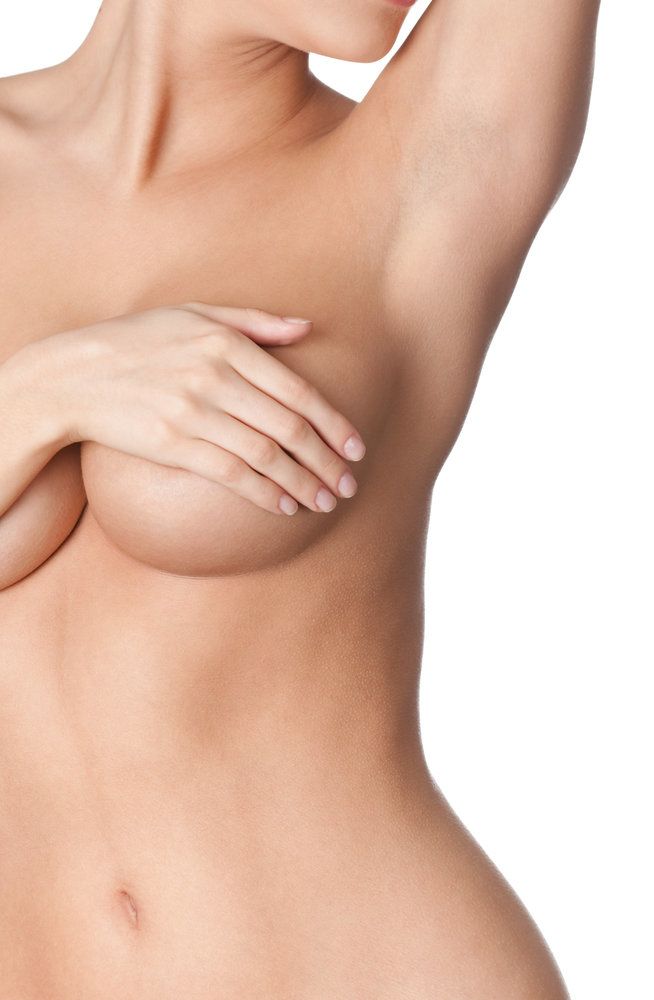 About Subglandular Placement
Breast implants placed above the pectoral muscle offer many unique benefits. Subglandular implants usually heal faster than submuscular implants, as fewer tissues are disturbed during surgery. Subglandular placement also creates a more dramatically enhanced appearance, as implants lie just below the skin and tissue of the breast.
It is important to understand that implants placed above the muscle prevent women from undergoing traditional mammograms. However, there are other effective mammogram options for women to screen for breast cancer, which a patient's general physician can suggest.
About Submuscular Placement
Breast implants placed below the pectoral muscle offer unique benefits and restrictions as well. Many patients find that this type of placement creates a more natural look in their breasts. However, submuscular implants usually require longer healing time than subglandular implants.
Submuscular breast implants usually allow women to undergo regular mammograms. They also significantly reduce the likelihood that a woman's implants will develop capsular contracture, which is a tightening and hardening of scar tissues surrounding the implant. Capsular contracture creates a rippled, unnatural appearance in the breasts, and must be corrected with breast implant revision surgery.
An Advanced Incision Method
As an expert in transumbilical breast augmentation (TUBA), Dr. Barone can provide beautiful results with minimal downtime. This advanced method uses a single incision located within the belly button, so it produces virtually no visible scarring.
How It Works
The TUBA method is used exclusively with saline implants. Before beginning, Dr. Barone will give you a local anesthetic combined with a sedative or place you under general anesthesia. Then, she will create a discreet incision within the navel.
Through this small opening, Dr. Barone can create a tunnel under the abdominal skin to reach the breasts. The implants are then placed and filled to the desired size. The final step is closing the incision with dissolvable sutures. An entire TUBA breast augmentation can typically be completed in 30 to 45 minutes.
The Benefit of Awake Breast Augmentation
During awake breast augmentation surgery, our patients are fully conscious and receive only local anesthesia. Patients feel no pain during the procedure, but are able to avoid several side effects and risks associated with full sedation. Awake breast augmentation is much more cost effective than oral or ID sedation. Additionally, patients do not experience the groggy, nauseous after-effects of IV sedation.
What Affects Breast Implant Cost?
Most patients have questions regarding their breast implants cost. Dr. Barone and her San Antonio team help patients ever aspect of this procedure. Our breast augmentation with implant base cost begins at $4,000, and increases according to the type of breast implants chosen, as well as the type of incision, and type of anesthesia used. To help place breast augmentation within your budget, we offer financing options including CareCredit™ and in-house financing for qualified candidates.
Type of Implant and Placement
Dr. Barone offers saline and silicone breast implants. Both types of implant have unique benefits, and create a different look and feel to the breast.
Saline breast implants are composed of a collapsible, silicone pouch that is filled with saline (salt water) to add volume. Saline implants can be more precisely adjusted per Dr. Barone's evaluation during surgery. After the pouch is inserted in the breast, it is filled through a small tube. Saline implants generally cost less than silicone implants.
Silicone breast implants are composed of a silicone pouch, like saline implants, but are filled with silicone gel. These pre-filled implants come in a variety of sizes. They are generally more expensive than saline implants, and may require a longer recovery time.
In addition to different types of incisions, the positioning of the implant within the chest can affect cost. Implants can be placed either above or below the pectoral muscle. Both options create a slightly different final result. Some believe submuscular placement achieves a more natural-looking result, while others prefer the more voluptuous-looking results of an implant placed above the muscle.
Contact Our Breast Enlargement Surgeon
Dr. Constance Barone knows that breast augmentation is a highly personal decision, and wants to help you meet your goals. She also advises that, whether you plan to have breast implants or not, all women should give themselves a monthly breast self-exam and schedule regular breast screenings to ensure their health. To schedule a private consultation about breast implants, please call or email our practice today.